We love what we do!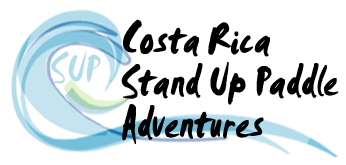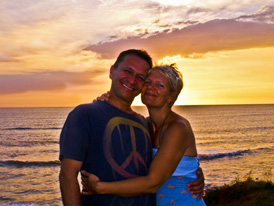 Costa Rica Stand Up Paddle Adventures co-founders, Lydia Beech and Marco Salazar.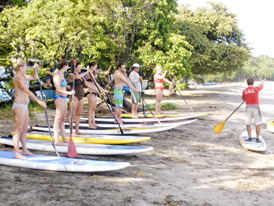 Doing what we love, teaching a group all about SUP Techniques, Fun and Safety
.
We love to teach beginners, coach intermediates and challenge advanced SUPers.
SUP surfing or flatwater we love it!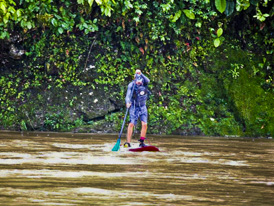 Mario Bonilla in the first ever SUP run in the Pacuare River.
Mario has always been an adventurer and a pioneer, so he's done it again, another "first ever"!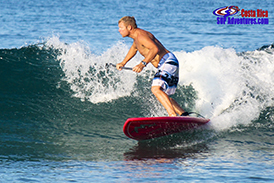 Our guest Mitch from Australia, enjoying a perfect right.
Adventure, SUP surfing and SUP flatwater expeditions, are a huge part of our preferred lifestyle!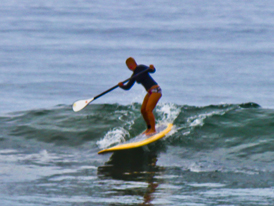 Lydia Beech de Salazar, fun at Playa Grande.
About Us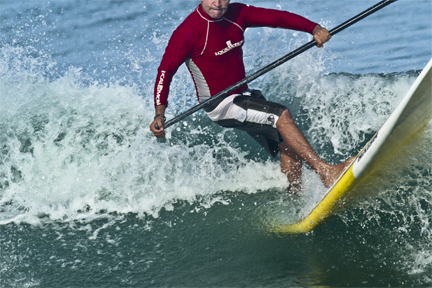 More than a Dream, it's a Calling!!!
Surfing I believe, in modern times, has been the catalyst for the development of watermen and waterwomen. We have seen it go from planks with no fins to the modern surfboard, and as my friend Robby Naish said to me, "I am a Board Rider!" This really is an important statement, be it short board, long board, sail board, tow board, kite board or paddle board, the common denominator is a Board. And a board rider he is and so are we.
I was lucky to be a participant in his Costa Rica Stand Up Paddle surfing trip in search for the longest waves, as a Surf Guide and Host.
He is a Legend in his own right. It was great to see this World Champ go! I learnt more in the one week he was here than what I could have learnt on my own in a year!
Robby is an awesome athlete and an even more awesome person. He was one more of the crew and even when we wanted to treat him in a special way, we couldn't because he is "just a great board rider" and he always wanted to be there loading and unloading the boards and supplies at every surf spot that we went to. He was totally stoked to "get out there and surf" everyday and in all conditions.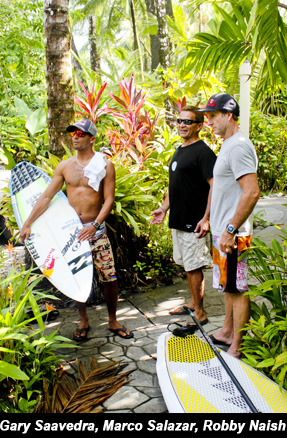 We surfed Hermosa, Tulín, Boca Barranca and the big swell at Pavones.
I surfed Pavones with Rory Russell in 1980, with Buttons Kaluhiokalani (RIP) in 1980 and 1981, and with Marvin Foster (RIP) I surfed Pavones, La Boca and Playa Valor in 1983.
In Hawaii, while I visited my good friend Carlos Galli that was living at Sunset Beach, Oahu, I had the honor of surfing with Perry Dane and with Junior (RIP) at V-land, and with many other world famous surfers like Michael Ho, Joey Buran and Tom Carrol at many of the different Oahu's North Shore surf spots. They all inspired me, back then.
But this trip was with Robby Naish, it was now and it was here, in my beloved Costa Rica and we were heading to surf Pavones, again!
And, this time it was Stand Up Paddle surfing!
I was already hooked on SUP surfing,
When I discovered SUP surfing, my love for surfing was rekindled. I felt like a kid with a new toy!
I felt that I was learning something new again. I love it when I am learning, it is such a thrill to be challenged!
So, as fortune would have it, I was approached by Red Bull to guide Robby Naish during his quest to surf some of the longest lefts.
I was able to share time, again, with a world class Waterman, and had the opportunity to learn, again, firsthand from a pro. Priceless!!!
Watermen aren't "all talk" at all, they are all about performance.
So I absorbed, asked, and learnt enough that it changed my surf-life, to SUP surf life, and that has been all I have done every day since. I have been SUP surfing the outer reefs, point breaks, beach breaks, doing downwinders and paddling the secluded flatwater bays and islands in this awesome part of the world.
I really like that SUP allows for such a variety of styles: SUP Short boards, SUP Hybrids, SUP Long boards, and SUP Flatwater, what a blast!!!
So now it's time to share this Stand Up Paddle Goodness with all!!!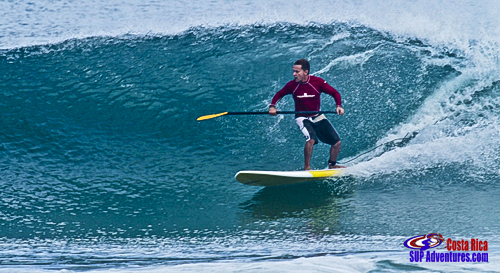 Let's have fun!
After all, it's all about the fun.
It feels good to us to share our SUP spots and knowledge, through our Stand Up Paddle Tours, SUP Lessons for the beginners, SUP Coaching and SUP Rentals for the intermediate and the advanced.