Yoga on the Paddle Board!!!
SUP and Yoga, go hand in hand, they have a natural synergy that allows for the mind - body and spirit connection to renew, cleanse and integrate in natural harmony. Many people are benefiting from this holistic approach to life in general. Our Yoga instructors can accommodate from the total beginner to the advanced student. For the more adventurous, we have the pleasure of offering Yoga lessons while on your Paddle Board. You paddle out and do the class on your board, in the Ocean!!!
If you are already here and you wish to try it, we offer group and private lessons, please contact us for availability, schedule and rates.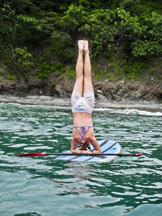 Stand Up Paddle and Yoga Package Rates
Package rates include: Tamarindo Diria beachfront accommodations, awesome breakfast buffet, LIR (Liberia) airport transfers and all transportation for SUPing and for your chosen included Other Activities, unlimited use of a SUP board, paddle, leash and rash guard, SUP Instructor/Guide, SUP lessons, coaching and guided tours, daily Yoga instruction in or outside the water, Other Activities and more, please read!!!


These prices are valid until December 14, 2017 for dates after, please ask us.


All prices are per person and do not include airfare.

Single

Occupancy

Double

Occupancy

Triple

Occupancy**

4 Nights, 5 Days
$1685
$1285
$1245
5 Nights, 6 Days
$2020
$1520
$1460
6 Nights, 7 Days
$2205
$1635
$1535
7 Nights, 8 Days
$2435
$1815
$1740
10 Nights, 9 Days
$3420
$2520

$2420

Want more or less nights or activities?
Ask us
Ask us
Ask us
** With Triple Occupancy you get an automatic upgrade to Sunset Ocean View Premium Room category.
Triple Occupancy is accomplished with 2 Queen Beds and 1 Rollaway bed in a Sunset Ocean View Premium Room only. This room upgrade and the additional guest fee are included in the price.
You will participate in the SUP program of your choice (Beginner, Intermediate or Advanced) and receive a Yoga class daily.
The Yoga on the Paddleboard is available at least once for the 4 - 6 night packages and at least twice for packages of 7 nights or more.
The yoga on a paddleboard is only if you wish, if you prefer only yoga on land there's no problem.
Depending on the actual group preferences we could have assorted class locations,but most classes are in a studio, for your comfort.
Everything that is included in our regular SUP packages is also included in your SUP and Yoga packages.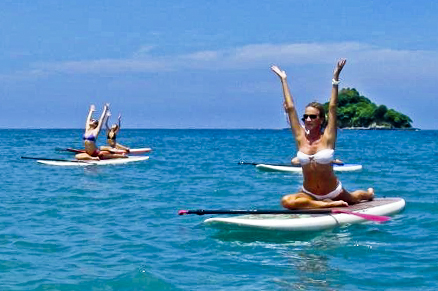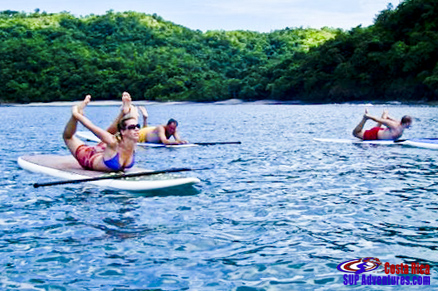 Beauty Spa
Pamper Yourself. You deserve it!!!
We have partnered with Coco Beauty Spa to provide you with the body work that completes a true vacation. If you are one of our guests you will enjoy 10% off any of their services and treatments. You let us book them for you and as our guest you get 10% off. Because you have chosen us for your SUP Adventures, we want you to save money in any nice sports related services and activities we can help you with.
This is a link to Coco Beauty Spa, so you can see their treatments, prices and make your choices. You can book through us to get your 10% discount in our Stand Up Shop located at picturesque Nogui's Restaurant in front of the ocean in downtown Tamarindo or call us for any Tours you might want to book at +506-8780-1774.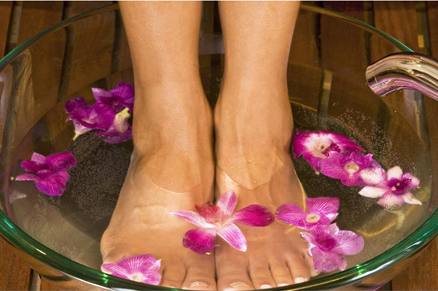 Energy Work.
At Costa Rica Stand Up Paddle Adventures we believe in taking care of ourselves in all dimensions, Body, Mind and Spirit. A great vacation should address all these aspects of the human condition.
We have energy practitioners available, for chakra awakening and tuning, Reiki, crystal, sound and color therapy; we do not include it in our packages but we want everyone to know that it is available. And for those that seek them, we have Toltec teachings and exercises, upon request.
Come pamper, regenerate, rejuvenate and re-energize yourself... no one else but you can take that decision, but once you do, we can facilitate the process for you! We will help you rebalance and heal yourself!!!
We absolutely love life and love Costa Rica. We want to provide you with a great natural adventure and holistic cultural experience in addition to world class Stand Up Paddling in its different forms.